1906 12 Horsepower Case
Tom DeBacker, Bob Condon, Jere DeBacker -- Boulder, CO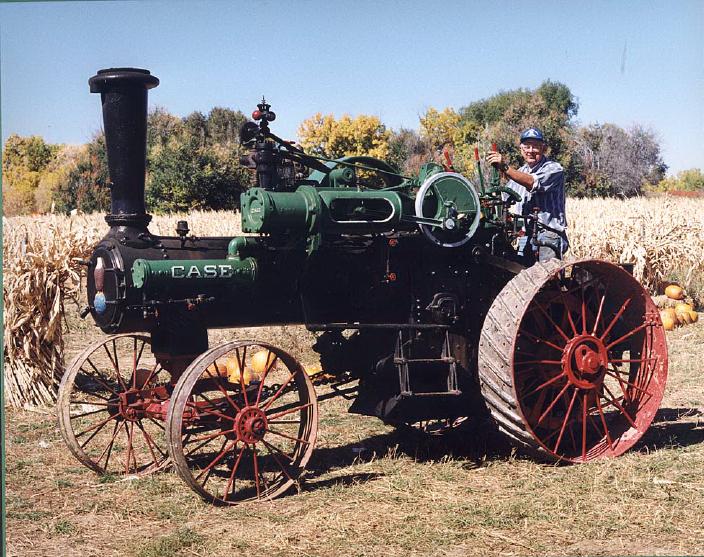 Engine History
Our first knowledge of this engine is when Dr. Gunder of Loveland CO purchased it in the Texas Creek area west of Cañon City CO in 1953. He brought it to our family farm near Boulder for storage while he worked on it. We remember him saying it was used on a sawmill. There are several interesting breaks and repairs on castings which indicate some misadventures in its past. Also heavy wear on axles & gear train indicates pulling work done at some point in it's life.
Dr. Gunder disassembled the engine parts and started cleanup & repairs. He died in 1967 leaving it to our father Harold De Backer. Harold did more work but it was still uncompleted at the time of his death in 1969. It was left by Harold to Tom, Bob, and Jere. Bob completed boiler repairs, assembled engine and had it running in 1974 for the first time since it came to Boulder. We ran it a few times over several years then put it away until 1996 When we started mechanical restoration. We have done this in steps working on different systems each year. It is nearing completion now.
We usually display it at the Boulder County Fair in August, sometimes powering the separator used for threshing demonstrations, and at the Cottonwood Farms fall festival in October where it usually runs on weekends.
In 1999 we displayed it at the Old Threshers Days in Yuma CO, where it powered a 1919 Wood separator there for threshing demonstrations.